Regular price
$150.00 USD
Sale price
$75.00 USD
Unit price
per
Sale
Sold out
Share
Embark on a transformative journey towards mental wellness at this workshop. Discover a curated lineup of talented individuals dedicated to nourishing your mind, body, and soul. Here's what awaits you:
🌱 Savor delicious plant-based food that delights your taste buds and nourishes your body.
📖 Dive deep into inner child journaling to explore and heal past wounds, fostering self-discovery and emotional well-being.
🌟 Connect with your senses and engage in mindful movement practices that enhance self-awareness, grounding your spirit with uplifting and calming energy.
🧘‍♀️ Experience the power of guided meditation that leads you on a journey of relaxation, stress reduction, and inner peace.
🎶 Immerse yourself in the soothing sounds of a transformative sound bath, complemented by Reiki healing.
This event presents a unique opportunity to embrace holistic healing and discover effective tools for your mental well-being. Join us as we create a nurturing and supportive environment where growth and healing flourish. Don't miss out on this transformative experience!
This workshop is open to individuals of all ages and backgrounds who are interested in prioritizing their mental health and breaking the stigma surrounding mental illness. You'll connect with others who share similar experiences and concerns, and gain valuable knowledge and skills that can improve your well-being.
Don't miss out on this transformative experience! Light refreshments and snacks will be provided.
Date: 5/27/23
Time: 12pm-3pm
Location: The Fern 7723 Santa Fe. Ave. Huntington Park, CA 90255
Registration: $75 per person
We look forward to welcoming you to this holistic mental health workshop.
View full details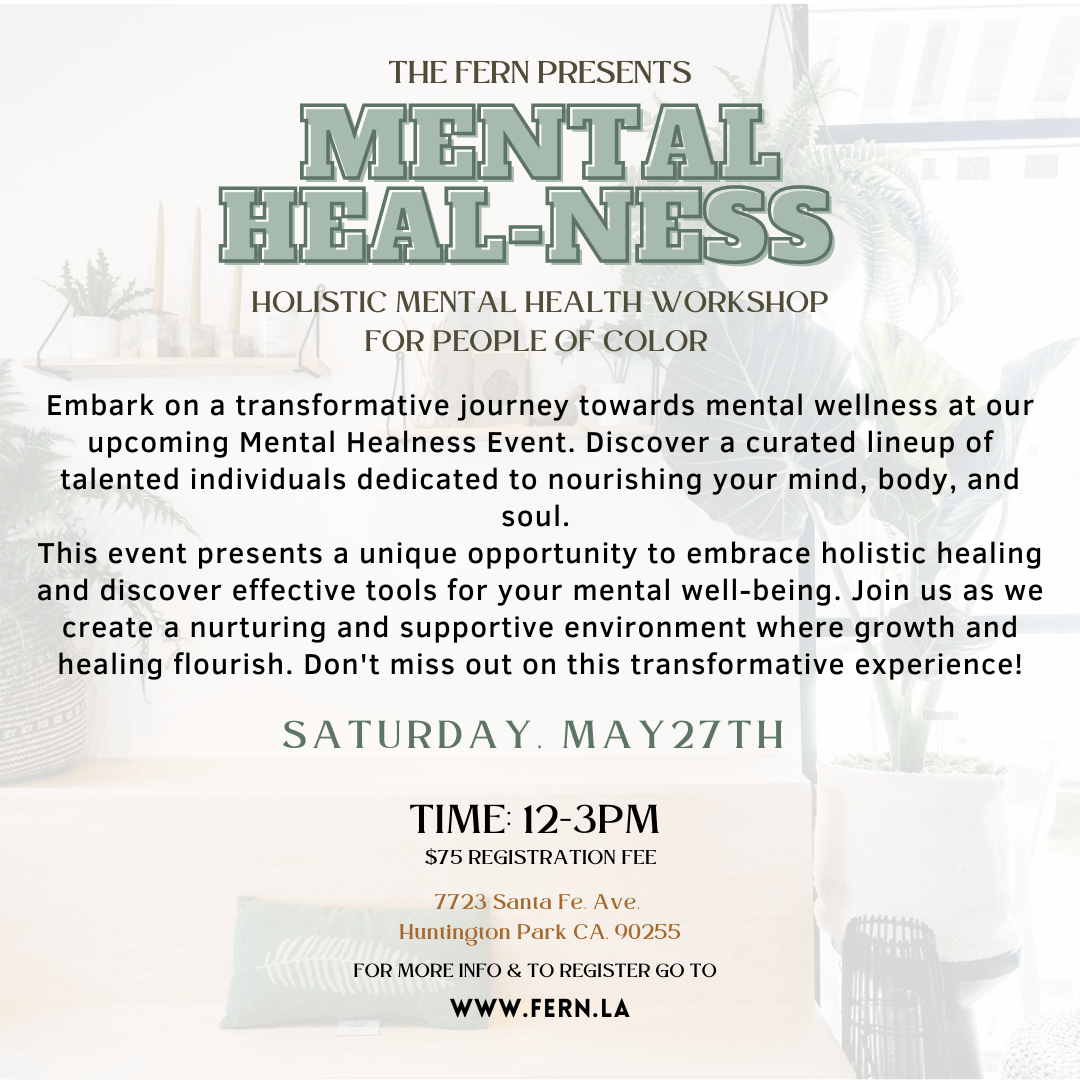 Holistic Mental Health Workshop for People of Color